Hospital
Fu Jen Catholic University Hospital
Holistic and Loving Medical Care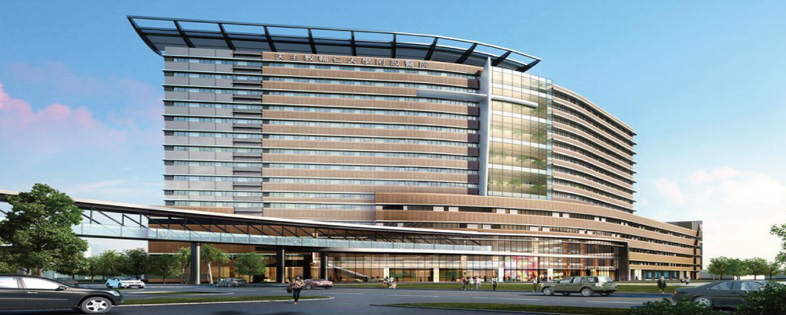 Beginnings
In 2008, the Board of Trustees of Fu Jen Catholic University made an ambitious decision to establish the Fu Jen Catholic University Hospital with the goal of providing first-rate medical care to the surrounding community. It is the single most important undertaking since the re-establishment of Fu Jen in Taiwan in 1963. With the hospital scheduled to open in the summer of 2017, Fu Jen's vision of having a cutting-edge medical center for its medical students and the larger community will soon be a reality.
The School of Medicine at Fu Jen is committed to educating future physicians who are equipped with medical knowledge, clinical expertise and a genuine commitment to putting into practice the core Christian value of loving service to others.
State-of-the-Art Medical Care for the Community
The population of the area surrounding Fu Jen Catholic University is approximately 1.2 million. Currently, there is limited access to basic medical services as well as care for cancer and cardiovascular and neurological disease in the community. As a result, over 70% of the population must travel to neighboring areas to seek essential medical services. With the new hospital, Fu Jen will be able to offer comprehensive medical care to the heretofore underserved population of the New Taipei municipality.
Moreover, the hospital will extend its reach beyond Taiwan with "across-the-border medical care." Under the auspices of the College of Foreign Languages, Fu Jen will launch specially designed programs to train multi-lingual medical personnel to attract patients living overseas. These programs are especially relevant given Fu Jen's proximity to the international airport.
The Significance of Your support
The Fu Jen University Hospital would not be where it is today without the generous support of the many donors who gave money, time or in-kind gifts to fulfill Fu Jen's vision of a comprehensive medical center. Please accept our heartfelt gratitude!
There are many reasons for making a gift to the hospital. Perhaps you are grateful for your time at Fu Jen and want to give something back. You may feel passionate about providing critical medical services to an underserved community. Or maybe you wish to leave a legacy that will make a lasting impact on campus and the community.
You may simply want to take advantage of the tax benefits of making a gift. Whatever your motivation, we welcome and encourage your support to the hospital!


Please download the donation form below and send it along with your tax deductible donation.


Hospital Donation Form


Hospital Donation Form - Naming of "Fr. Daniel Ross Social Service Unit"