Hospital SkyBridge
Fu Jen Catholic University Hospital SkyBridge
A Pathway to Wellness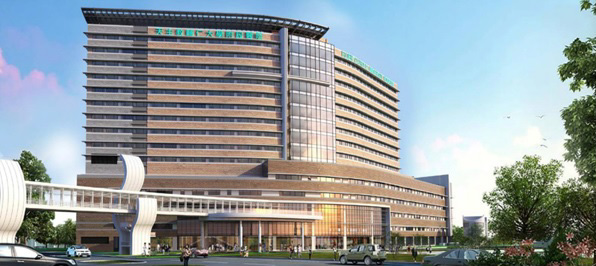 As construction for the Fu Jen Catholic University Hospital progresses, the Board of Trustees of Fu Jen Catholic University has decided to build a SkyBridge across Guizi Road (貴子路) to connect the new hospital with Fu Jen's main campus.
The Tree of Life
As a part of a Catholic hospital, the SkyBridge is delicately designed to resemble branches that symbolize the tree of life. The abstract structure also adds a splash of artistic expression to the urban setting of Fu Jen while contributing to the hospital's overall aesthetic.
Protection and Convenience
The Guizi Road has long posed a threat to the safety of students who cross this busy road daily during their commute to campus. The construction of the SkyBridge will both eliminate traffic danger to pedestrians and facilitate easy passage between the hospital and the College of Medicine. This, in turn, will make it more convenient for community members to visit the hospital and receive care with safe transit ensured.
Show Your Support
Whether you are an individual or a representative of a company, please consider donating a unit of NT$ 50,000 (approx. USD$1,600) to show your support of the SkyBridge project. Your generosity and support will help us make SkyBridge a reality. To express our appreciation, your name will be recognized on the bridge as an enduring reminder of your commitment to the Fu Jen community.
Thank you for your support!


Please download the donation form below and send it along with your tax deductible donation.


Hospital SkyBridge Donation Form