Save and Give Fund
Greetings to All Members of the Fu Jen University Community!
As we welcome in beautiful spring, not only are the hills of California looking April green and splendid, we also have exciting news to share. President Chiang Han-Sun just received endorsement from the Board of Trustees of Fu Jen Catholic University for another term of presidency. This is great news! For he can now continue the vision he began in 2012 to guide FJCU along a collaborative path, integrating academics and the hospital (融合學校與醫院的發展) while overcoming the challenges faced by higher education in this ever-changing digital age.
The Save & Gave Annual Giving continues to enjoy a steady growth and energy with each passing year since 2015. Thank you for your support! The Make Fu Jen More Beautiful project, under the dedication of Sister Maryta, delivered a truly WOW effect at last year's university anniversary and Christmas celebration with its amazing flower arrays and displays. Plus, several special spots on campus, such as 于斌墓園, 聖母洞 are obtaining a refreshed look. 羅麥瑞修女與景觀設計系、美術系師生孜孜不倦地將輔仁數個角落美化,結合地方政府的力量,逐步呈現出不同的風貌。
Meanwhile, the Global Experience Initiative for Students, through short-term studies and internship programs, continues to get more attention. FJUF made contact with the University of Notre Dame for their two-week summer research program (iSURE). 理工學院、社會科學院與對研究有興趣的學生都適合申請此短期課程,相關暑期課程申請辦法也會透過各系公告予學生。For those of you attended 理工學院 and 社會科學院 while at Fu Jen, your special interest to support this worthwhile initiative is needed.
For the plan to enrich faculty teaching and research is getting off to a slower start. This is primarily due to the cost and time involved for faculty to be away from their current posts.
As always, your support to advance the unique culture and heritage to Fu Jen Catholic University is deeply appreciated. It is a real joy to see our alma mater continue to blossom under President Chiang's leadership.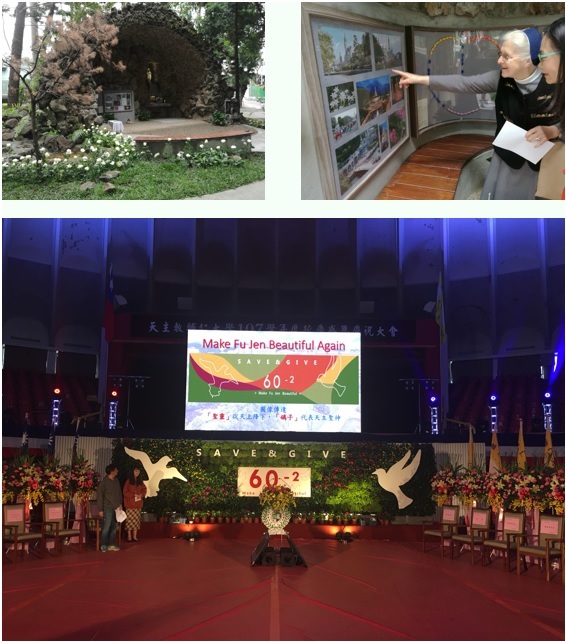 Yours truly,
Susan Chao
Chief Operating Officer
Fu Jen University Foundation

Online donation is processed by Paypal.




Or, download the donation form below and send it along with your tax deductible donation.


Safe & Give Fund Donation Form