Save and Give Annual Fund
Show your pride, gift to advance excellence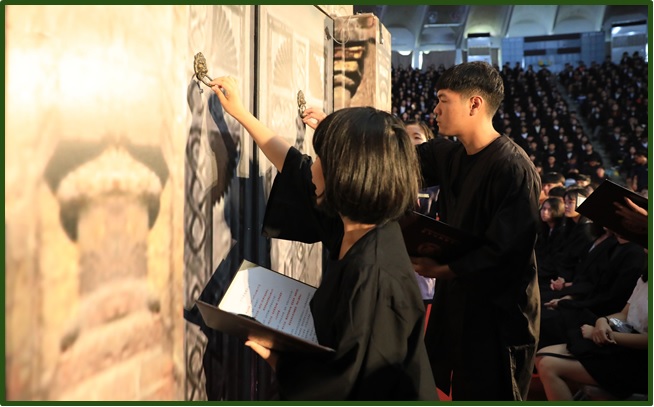 Dear Fu Jen Family Members,
In celebration of National Philanthropy Day, many thanks for your dedication and support for Fu Jen Catholic University. Donations to Fu Jen University Foundation (FJUF) come from all across the U.S. and Canada. There are no boundaries to our loyalty and pride in Fu Jen's traditions and legacy and that is what motivates me to carry out the mission of FJUF which is to support our alma mater towards academic excellence.
To keep pace with today's changing world is not easy for any university. However, Fu Jen continues to adapt and grow with the rapidly changing environment. Some of your Save & Give (S&G) contributions created scholarships for students to expand their horizons abroad through the Summer Research Program (iSURE) at the University of Notre Dame, the student exchange program at Oregon State University or internship programs in Shanghai for students of the Department of Economics. For those of you who supported the Advanced Laboratories Project of the College of Science & Engineering that is scheduled to commence construction in December, you would be excited to know that the new lab building will feature interdisciplinary research to advance CS&E's new direction towards academic excellence.
As Fu Jen continues to evolve, special landmarks and favorite hangouts on campus have been restored with the help of S&G beautification funds. Sister Maryta continues her tireless efforts to rejuvenate distinctive sites on campus. Emily Cha, a donor to our Save & Give Annual Program since its inception in 2015, reflected that 校園是大學經驗中,很重要的一個記憶。希望 Make Fu Jen Beautiful Again 的努力,帶給輔大人更多驕傲。
On this date of appreciation and gratitude, thank you for being a member of the Fu Jen family and especially for supporting opportunities for students and faculty towards innovation and excellence.
For Fu Jen,


Susan Chao
Chief Operating Officer
Fu Jen University Foundation
Two ways to gift to advance excellence: